Just with a few simple materials together with the dexterity, you will have a beautiful vase to decorating for your home.
Paper Roses
Materials need to be prepared:
Colored napkin
Scissors, thread, tape, dry twigs look like the normal rose stems.
1 ballpoint pen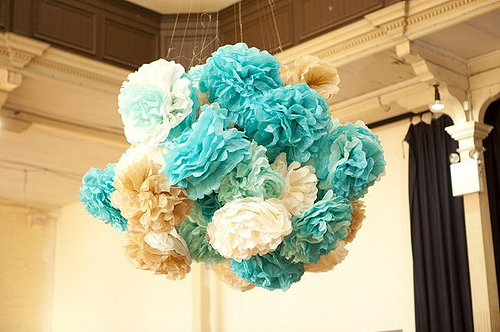 Making method :
Step 1. Cut the tissue paper into long strips with width of 10 cm 2 range, crumple paper and then wrapped around the body of the or with an object has small round.
Step 2. Use the vertical force of holography to produce wrinkled petals and soft for paper
Step 3. Gently remove the ribbon, and then use scissors to cut the most wrinkled head (top side in the same paper). Cutting corners to make the first round petals
Step 4. After cutting corners rounded sides, fix wing and body length so we have a single petal.
Step 5. Chassis scrap of paper that has been cut out to form a circle pistil, leave that paper in one bigger sheet so we would have twisted the pistil.
Step 6. Place the pistil on 1 side and curled
Step 7. After the first roll off, we begin to roll off the second, noting gentle roll. Roll with relaxed hand by folding seats cup rolled to produce flowers bloom spread the ninth wings . Roll nearly completely the second then rank the 3rd in the form of staggered stack up next to scroll until you see the flowers as big as you want it to stop
Step 8. After you have the desired size, using thread to wrap the pedicle then knot again, and we have a complete flower.
Tulips paper
You need to prepare the following materials:
– Multi-colored paper
– The green acrylic color
– The glass, pots, small bamboo stick tip
– Scissors, glue milk, Glue Guns
Step 1:
Print the patterns model on the petals and leaves and cut paper templates. Note: for petals and leaves as a template, you should use cardboard for easier.
Step 2:
Place the template of petal on violet paper to form and cut, so do you need 4 same tulip petals .
Place the leaf pattern on blue paper thoroughly and cut form, using all ink ballpoint pen drawing lines between the leaf veins.
Step 3:
Fold 4 double tulip petal in two and paste 2 fold half of the petals off the first with the second and the third and the forth, and hold the glue dry. Get the blue brush to cover the circle stick to dry.
Place the tip of the rod into the slot between two petals first and second coupling paste fixed by glue gun, followed by grafting paste. Then paste two leaves below the branches of two opposite directions. A Tulip completes. Now you put the tulips in a square glass to decorate your desk, or table in the living room, it is simple but very impressive.
By some simple steps, you have a beautiful flower vase for your house with the very cheap cost.